Bangkok Airport Transfer & Transportation
We provide a reliable transfer to and from Suvarnabhumi Airport in Bangkok. Our transportation services are available 24/7 and the fare starts at THB 1000, inclusive of all expenses. Choose from a diverse range of reliable vehicles, including Sedans, SUVs, vans, and luxury options like Benz and BMWs. Our booking and cancellation process is hassle-free and convenient. What sets us apart is our team of English-fluent drivers, ensuring effective communication without any language barriers. Book our taxi now and enjoy exclusive discounts.
Our Vehicles
Plan your trip to Bangkok now with our Suvarnabhumi pick-up and drop-off that will take you to your hotel or the downtown areas like Damnoen Saduak Floating Market, Khaosan Road, Chatuchak Park, or Nana Plaza. We also provide transfers to other destinations nearby Bangkok like Pattaya, Hua Hin and Ayutthaya. Browse through the vehicle of your own choice that suits the number of passengers below:
SUV
SUV cars are suitable for families travelling during holidays to Thailand and off-road adventures.
Starting cost: THB 1,000
Toyota Camry
Toyota Camry is a Sedan type car and it's a popular choice for those looking for a budget family airport transfer and road trips.
Starting cost: THB 1,200
Toyota Commuter
Toyota Commuter is a van-type vehicle and it's suitable for families and those travelling in large group with spacious and comfortable seats.
Starting cost: THB 1,500
Toyota Commuter VIP
Similar to the Commuter, Commuter VIP provides you with an upgrade level of comfort and amenities.
Starting cost: THB 1,800
Hyundai Staria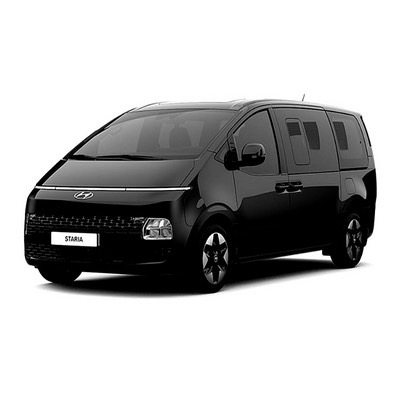 Hyundai Staria is suitable for small families and groups transferring from the Bangkok Airport.
Starting cost: THB 2,200
BMW Series 5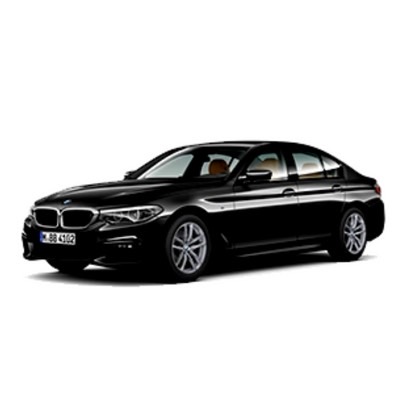 BMW Series 5 is a Sedan luxury-type vehicle and it's suitable for business and luxury private trip in a comfortable limousine taxi service.
Starting cost: THB 2,500
Benz E Class
Another great choice for those travelling for a business trip in a luxury style.
Starting cost: THB 2,800
Toyota Alphard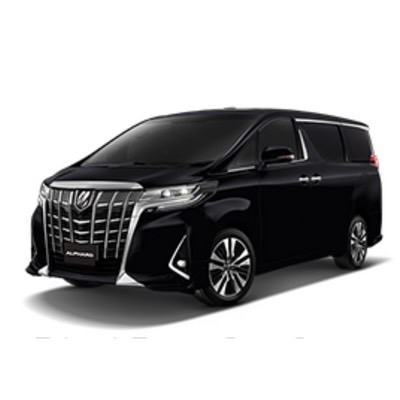 The Toyota Alphard is a premium minivan that combines style, versatility, and comfort. It's a great choice for small groups or families travelling together.
Starting cost: THB 3,000
How To Travel From The BKK?
Suvarnabhumi Airport (BKK) is located approximately 30 km (18 miles) from the city and it takes about 30-45 mins to reach the destination. There are 4 ways you can get to the city from Suvarnabhumi and those ways are by Airport Rail Link (ARL), by a shuttle bus, by a public taxi, and by private cars. However, the most convenient way to transport is by booking a private transfer service, which is what we provide.
Destinations
Book a transfer from the airport to famous places nearby Bangkok by choosing your destination below:
Other Services
Check out other services that we offer that you might be interested in:
We offer professional Bangkok limousine service for private tours. Navigate throughout Bangkok and Thailand by hiring our limo today along with a chauffeur you can trust.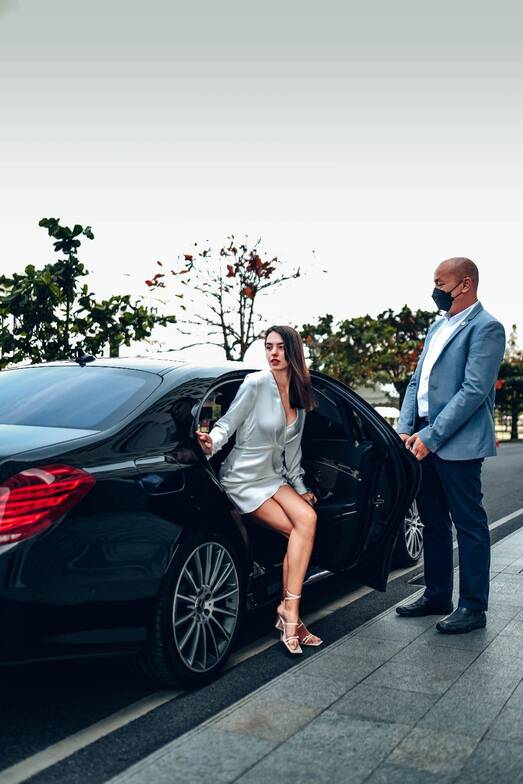 We offer professional private car rental services with. You can choose to rent the vehicle of your own choice and pay either half day (6 hrs) or full day (10 hrs).
** Baby Car seat (newborn to 5 years old) available for THB 500 per seat
** Price is all inclusive of the chauffeur and/or airport representative services, parking fees, government taxes, expressway toll charges, and fuel.
How To Book Our Service
To take our service, here are the steps:
Fill up the booking form below or simply get in touch with us via a phone number: +66802602158
Once we have your details, we will let you know the total cost and you can confirm the booking. We don't take any initial deposit for reservations.
On the scheduled date and time, our driver will be ready at your desired parking spot. If you're traveling from Suvarnabhumi, the driver will be waiting at Level 2 of the airport
After you reach your destination, you will be asked to complete the payment as discussed.
Cancellation Policy
Since we don't take any deposits prior to the transfers, there are no extra charges if you decide to cancel your ride with us.
However, customers are kindly requested to let us know in case of any cancellation at least 1 day prior to the journey. If you wish reschedule the transfer, just give us a quick call at +66802602158 or email us at theexclusivetransfer@gmail.com
How Long Does The Transfer Take?
Transferring from Suvarnabhumi Airport (BKK) to downtown areas and nearby hotels using a taxi or limousine takes approximately 45 minutes. However, the travel time can vary depending on weather conditions and traffic.
For other popular destinations near Bangkok, here are the estimated distances and travel times to and from the airport:
Pattaya (120 km) – around 85 minutes.
Hua Hin (222 km) – approximately 225 minutes.
Kanchanaburi (182 km) – around 250 minutes.
Ayutthaya (88 km) – around 70 minutes.
Koh Chang (321 km) – approximately 324 minutes.
Khao Yai (200 km) – around 185 minutes.
These estimations can serve as a general guide, but actual transportation duration may vary depending on the specific circumstances and conditions during your journey.
Why Choosing Us
English-Speaking Driver
Our drivers can communicate English fluently, so no need to be worried about the language barrier
No Hidden Cost
Our taxi fare is affordable and includes all taxes, parking, tolls, fuel and gratuities
Cars Regularly Checked
All of our taxi vehicles are regularly checked for safety to ensure that they are always in the right conditions
Get A Free Quote
Please complete all required fields
What is the cheapest way to transfer from Bangkok Airport?
The cheapest way to transfer from Bangkok Airport is by the shuttle bus which is located on the level-1 of the Suvarnabhumi terminal. The cost of taking the airport shuttle bus is THB 35 per person and it takes about 1 hour to reach the city center.
What are the hotels near Suvarnabhumi Airport?
There are many great hotels to stay near the airport and some of them are:
Novotel Bangkok
Siam Mandarina Hotel
Le Meridien Suvarnabhumi
The Park Nine Suvarnabhumi
Vismaya Suvarnabhumi Hotel
What are the best places to visit in Bangkok?
Bangkok is a vibrant city full of historical and famous tourist attractions. There are many places you can visit in the capital while you stay in the city or during the layover. Some of the best places to visit are:
Wat Arun
The Grand Palace
Wat Phra Kaew
Wat Pho
Lumphini Park
Wat Saket