5 Ways To Get From Bangkok To Hua Hin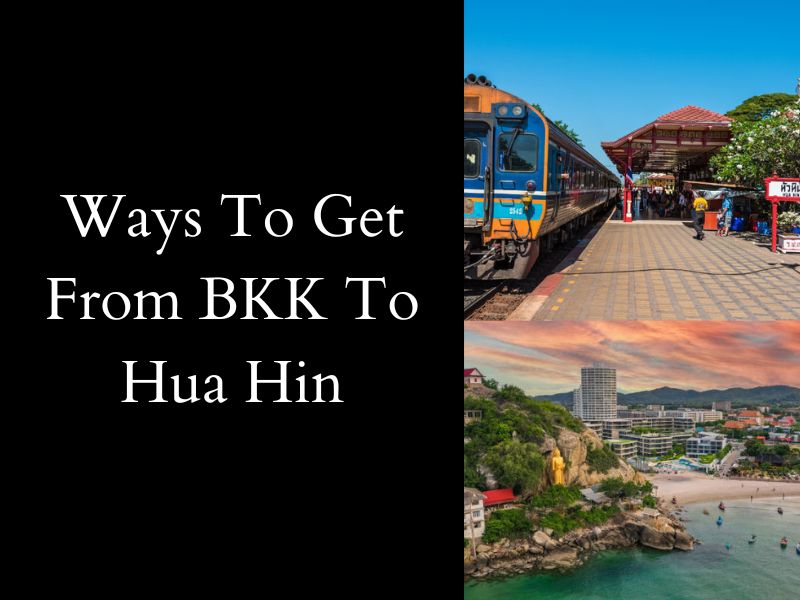 Hua Hin is located approximately 200 km from Bangkok is one of the most preferred places to visit nearby the capital. There are many ways you can get from Bangkok to Hua Hin but the most affordable way is by minivan which departs every hour. from all 3 bus stations (Ekkamai, Mochit, and Khao San Road) and the ticket cost is between THB 200 to THB 250.
In this article, we will explore 5 ways to travel from Bangkok to Hua Hin along with the details of each
1. Bus
Getting to Hua Hin by bus might not be the most preferred ways for many people as these buses are quite slow and can take up to 4 hrs. to reach the destination. However, it's still relatively cheap and comfortable enough.
Buses are available at Bangkok's Southern Station (Sai Tai Mai) with departures every 30 mins. throughout the day. The bus starts operating at 05:00 am until 12:00 am everyday and the ticket costs between THB 300 to THB 500, depending on the class of bus you take.
Buses are air-conditioned with ample space for large bags in the luggage compartment under the vehicle. If you're travelling from the Bangkok city center, then expect to pay around THB 200 to THB 300 for the taxi to get you to the Sai Tai Mai Bus station.
Most of the buses will stop at theClock Tower where you can further take the taxi from here to your desired destination.
2. Taxi
Next option is by using a taxi or a rented car. This is by far the most convenient and preferred way to travel by most people as you get a door-to-door service straight to your desired destination. However, it's not the cheapest as compared to other options listed in this article.
There are many private Hua Hin taxi service like us that you can either book for a one-time transfer or rent a car for full/half day tour to take you to places like Hua Hin Beach, Vana Nava Water Jungle, Cicada Market. and more.
The cost of taking a taxi to Hua Hin from Bangkok is roughly between THB 2000 to THB 2700 for a Sedan car and can be more if you opt for the tour service. Make sure you discuss the full cost prior to avoid any extra and surprise charges.
3. Minivan
Minivans offer pretty much the same convenience of taxis by providing an almost door-to-door service but at a cheaper cost. They are by far the cheapest way to get to Hua Hin from Bangkok and one of the most preferred ways as well.
Minivans are faster to reach the destination than buses (approximately 3 hours, depending on the traffic condition) and cost between THB 200 to THB 250 per person. Unlike the buses which are only available at the Southern Station, minivans are available at all 3 main stations, i.e. Ekkamai, Mo Chit and Khaosan Road which makes them much more accessible.
The only drawback of using the minvan is the limited space for both the passenger and baggage. So if you have lots of bags with you, traveling by minivan may not be a great idea.
4. Train
Taking a train from Bangkok is also another preferred method of transportation, although it can be a bit slower. This is a great option for those who want a scenic route and are not in a hurry.
The train departs from Bangkok's Hua Lamphong Railway Station and Thonburi Railway Station every 30-45 mins. Departure times start at 8:05 AM and finish at 22:50 PM. Average journey time is around 4 hours.
There are various classes of train you can take and the price differs based on your option. The train ticket starts at THB 160 for the third-class ticket and go all the way up to THB 800 for the first-class ticket. Air-conditioned seats are also available at a higher cost and there's no need for pre-booking.
5. Flight
Last but not least is to travel using a plane in which you can get to the destination from both the Suvarnabhumi and Don Muang Airport. Taking a flight to Hua Hin is the least preferred ways of travelling because it's quite expensive. However, it's also the fastest method to travel as it takes only about 30 mins. to reach the destination.
The Hua Hin Airport is located on a short drive from the city center where you can get any public transportation like Tuk Tuk to your desired destination.
Travelling From Bangkok Airport
There are 2 ways available to get from the Suvarnabhumi Airport to Hua Hin:
1. Shuttle Bus
If you're not travelling with many luggage or don't have a long way to go, getting from the Airport to Hua Hin via the Bell shuttle bus/Roong Rueang Coach (RRC) is the easiest and most affordable way.
The buses are located on Level 1 gate 8 of the BKK terminal and depart every 2-4 hours. The cost is THB 350 per person and takes about 4 hours to reach the destination.
2. Bangkok Airpot Transfer/Taxi
The second option is to go for the pick-up and drop-off service where you can book online from reputable sources. For the public taxis available at the terminal, you can either take it from the level-2 via the official counter or take the metered taxi available on the level-1 of the terminal.
Getting from Bangkok Airport to Hua Hin by taxi or private car is the most convenient way but certainly not the most affordable. The cost usually starts at around THB 2000 for the trip.